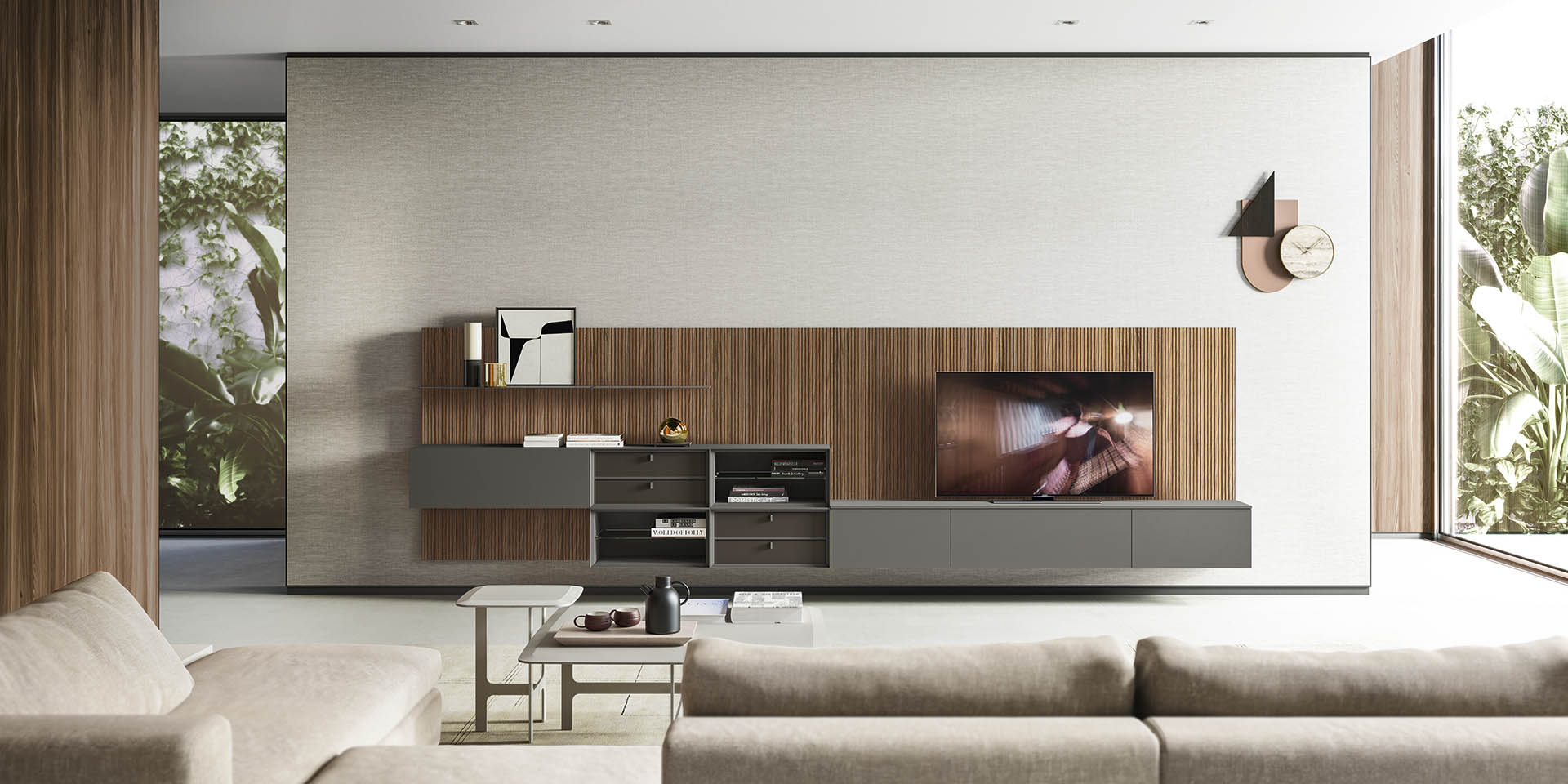 Designer living area compositions
Designer living area compositions
The living area is the place where we spend part of our free time or time we want to spend with guests. Alf DaFrè offers three modular compositions of accessorised walls for the living room, each with its own special, unique characteristics. Each Alf DaFrè designer living area composition has a wide variety of materials and finishes to choose from, for furniture that is made to measure for the space it is going to inhabit.
Designer living area compositions
Living area
Living area compositions
01
QUALITY 100% MADE IN ITALY
02
100+ materials to choose from
03
Logistics and reliable deliveries
Accessorised wall for living rooms, dining rooms, studies, entrances, bedrooms and hallways
Day Collection is the modern accessorised wall that has long been Alf DaFrè's pièce de résistance. A highly successful modern living area range that has been able to evolve over the years, always keeping in step with trends and living needs at home, constantly reinventing itself while remaining faithful to Alf DaFrè's quality and design standards. The different ways to set up this designer accessorised wall are almost unlimited, as it offers various types of storage units, benches, shelves, open compartments, display cabinets and entertainment units.
Antis is Alf DaFrè's innovative accessorised wall with bookcase for the living area. Innovative and versatile, it is based on a build using uprights that can be fitted with storage units, shelves and accessories. This hanging accessorised wall is available with wall or ceiling attachment, and can also be positioned in the centre of the room to act as a partition or to divide up the living spaces.
My Space is the wall-mounted modular bookcase that can be used to furnish any type of space or function. Using extra-thick side panels you can make up an infinite number of compositions of single- or double-sided accessorised bookcases for the wall or the centre of the room, with partitions, storage units, display cabinets and entertainment units.
Our designer living area compositions often express the vision of renowned designers, who enhance our collections with their creations. Alternatively, they are walls to furnish the living room conceived and created by our in-house designers, who accentuate their practical and aesthetic functions taking the experience of Alf DaFrè's history as their starting point.
Living area compositions that adapt to your style
There are so many opportunities for customisation with our modern accessorised walls. Each item Alf DaFrè proposes for the living area is available in the vast array of finishes in the sample range, from laminates to lacquered finishes, from glass to wood veneers, and also in innovative solutions with Groove fronts or backs, where the wood veneer is broken up with vertical black grooves that create a strong aesthetic impact.