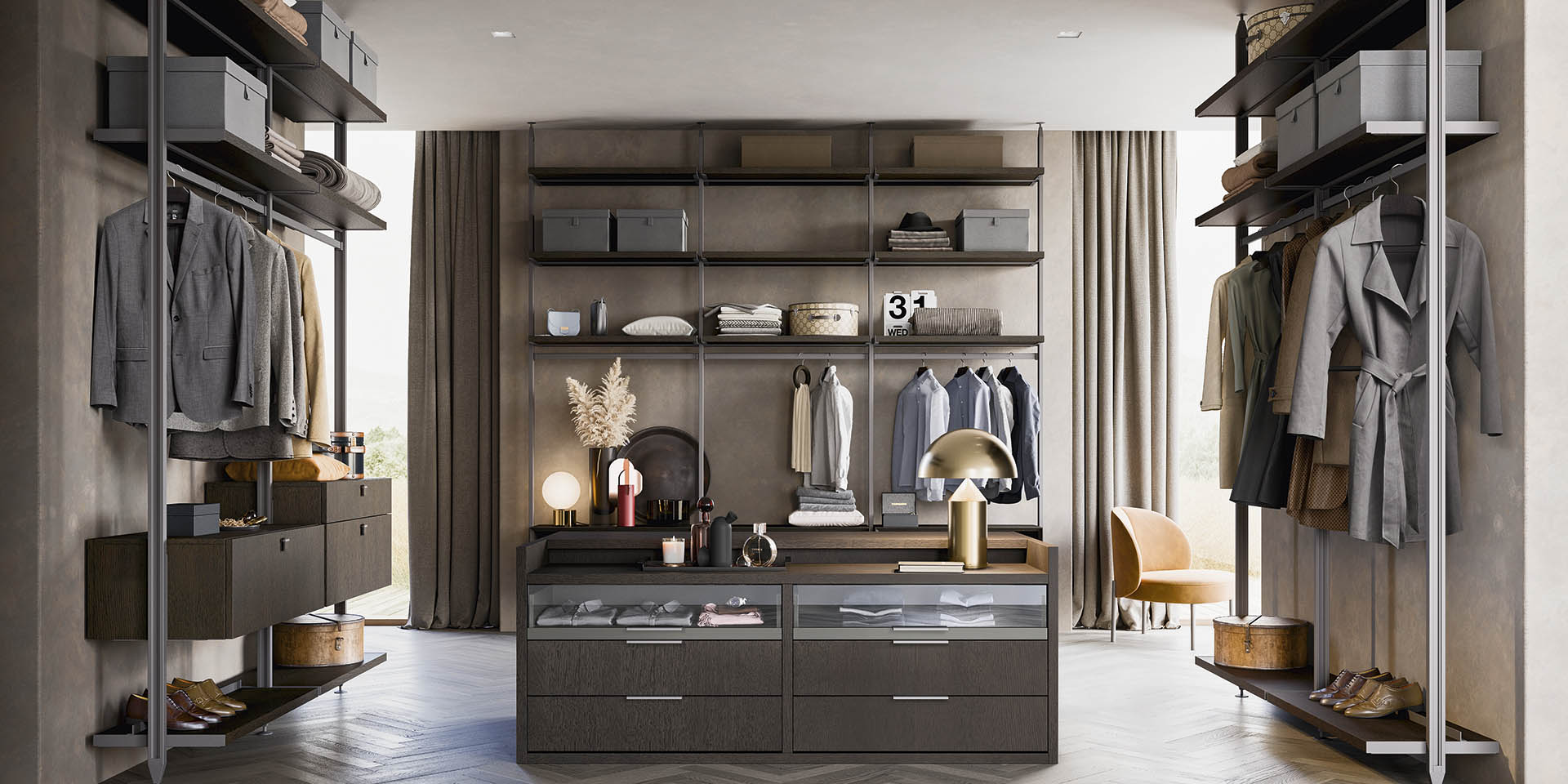 Designer walk-in wardrobes
Designer walk-in wardrobes for the bedroom area
The walk-in wardrobe is the modern interpretation of spaces in the bedroom area. A designer walk-in wardrobe is the solution for storing, organising, finding the perfect place for clothes, shoes and accessories ready to fulfil their functions.
Alf DaFrè offers two ranges of modular walk-in wardrobes, Store and Antis, different but complementary, each with its own features and characteristics.
Each Alf DaFrè designer walk-in wardrobe has a wide variety of materials and finishes to choose from, for an item that is made to measure for the space it is going to inhabit.
01
QUALITY 100% MADE IN ITALY
02
Modular walk-in wardrobe designs
03
100+ materials to choose from
04
Logistics and reliable deliveries
Modular walk-in wardrobes for bedrooms, studies, entrances and hallways
Store is a range of modular walk-in wardrobes with back panels that can be accessorised thanks to an innovative fixing mechanism with a rack to which can be attached shelves, storage units, open-fronted compartments, drawer units and all the other useful accessories you need to create your own personalised space.
Antis is Alf DaFrè's innovative proposal for a fitted walk-in wardrobe. This open-fronted walk-in wardrobe is innovative and versatile, based on a build using uprights that can be fitted with storage units, shelves and accessories. The Antis open-fronted walk-in wardrobe is available with wall or ceiling attachment, and can also be positioned in the centre of the room to act as a partition or to divide up the living spaces.
That is why our designer walk-in wardrobes often express the vision of renowned designers, who enhance our collections with their creations.
Alternatively, our walk-in wardrobes are conceived and created by our in-house designers, who accentuate their practical and aesthetic functions taking the experience of Alf DaFrè's history as their starting point.
Modern walk-in wardrobes that adapt to your style
Each Alf DaFrè walk-in wardrobe is available in the vast array of finishes in the sample range, from laminates to lacquered finishes, from glass to wood veneers, all to enable this important area of the house to take a leading role in contemporary living.