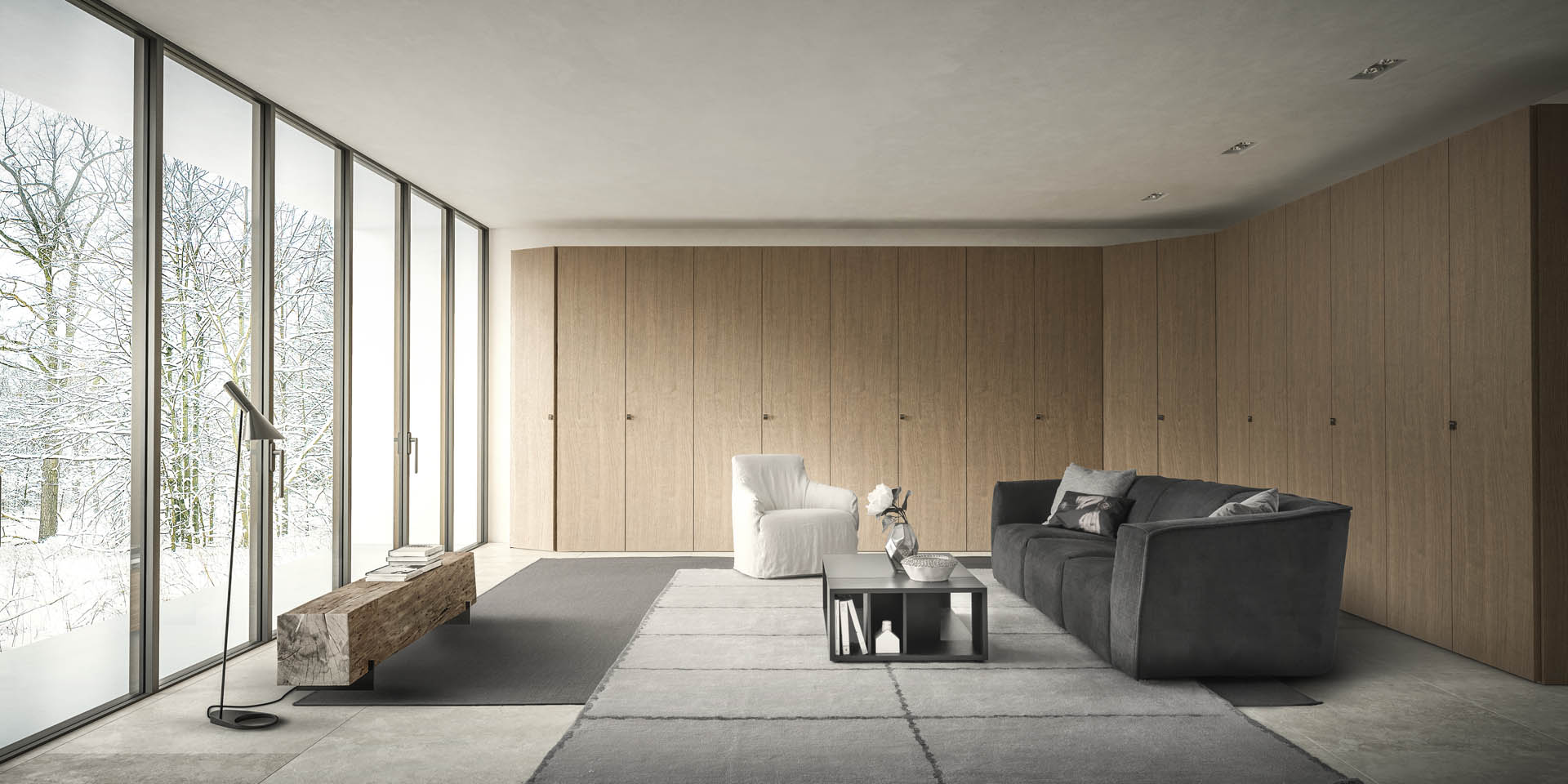 Modern designer wardrobes
Modern wardrobes for bedroom and living areas
Poker and Mixer are two ranges of modern wardrobes for bedrooms that are different but complement each other, each with very distinct features and characteristics. Each Alf DaFrè designer wardrobe has a wide variety of materials and finishes to choose from, for an item that is made to measure for the space it is going to inhabit.
Wardrobes Mixer
Coplanar door
Wardrobes Mixer
Sliding door
Wardrobes Mixer
Swinging door
01
QUALITY 100% MADE IN ITALY
02
Made to measure at no extra cost for the Poker range
03
100+ materials to choose from
04
Logistics and reliable deliveries
Wardrobes for bedrooms, studies, entrances and hallways
Mixer is the designer wardrobe with doors designed and made to the highest quality standards on the market. Refined in its style, compositional solutions and by the premium finishes like wood veneer, silk-screened glass or leather. The Mixer wardrobe for double bedrooms is available with swinging, sliding or coplanar doors.
Poker is an innovative design, a modern fitted wardrobe with enormous modularity, where made to measure comes as standard.
Thanks to our advanced industrialisation process it is actually possible to have a made-to-measure wardrobe at the cost of a standard one.
Poker is a modern designer wardrobe that's unexpectedly versatile: thanks to the multiplicity of compositional arrangements and accessories it offers, it suits any room in the house, from the bedroom to the study, the living room, the laundry or the garage.
Wardrobes with swinging doors are an excellent solution when you want to check all of the wardrobe's contents at once, without having doors overlapping.
Wardrobes with sliding doors, on the other hand, are the right choice when there isn't much space available to open the doors.
Alternatively, the designer coplanar wardrobe has a very compact look: being able to open it in two steps gives you a wardrobe in which the doors are in alignment and on the same plane when closed.
Our modern wardrobes often express the vision of renowned designers, who enhance our collections with their creations. Alternatively, our wardrobes are conceived and created by our in-house designers, who accentuate their practical and aesthetic functions taking the experience of Alf DaFrè's history as their starting point.
Modern wardrobes that adapt to your style
The vast array of finishes available for our modern wardrobes for bedrooms and elsewhere adapt to meet any need, from laminates to lacquered finishes to wood veneers, and glass which can be silk-screened, or mirrors. The Mixer and Poker designer wardrobes are designed to furnish the whole house.